When you first arrive on La Touche Musicale, it is possible that your piano is not recognized by the platform. Eventually when you connect your piano to your device, sometimes it happens that the connection icon located in the interface menu does not light up green, but remains red, like the following :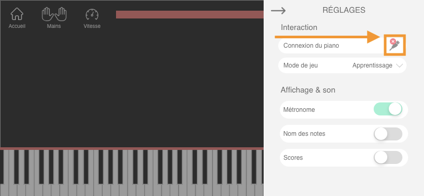 In this case, it means that the platform does not recognize your piano.
But don't panic! It happens often. To solve this problem, you need to check the following items:
The connections of your cable
If you have a "MIDI" cable (this does not apply to "USB" printer cables, which have only one connector), make sure that it is connected to your piano as follows: the "IN" of your cable in the "OUT" connector of your piano. The reverse is also correct: the "OUT" of your cable into the "IN" connector of your piano. If you connect the "IN" of the cable to the "IN" input of the piano or, vice versa, the "OUT" of the cable to the "OUT" of the piano, the connection will not work.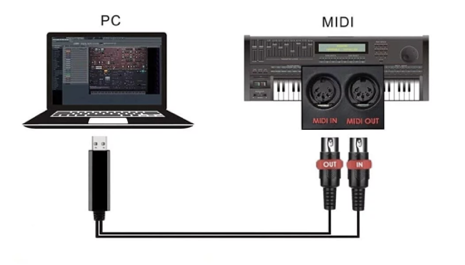 OTG activation on Android
On some Android devices, you need to enable OTG technology for your piano to be recognized by the app. To do this, go to the settings of your device. Then click on the "System" section: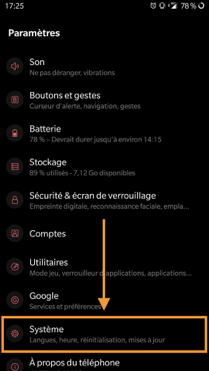 Once in "System", activate the "OTG Storage" technology: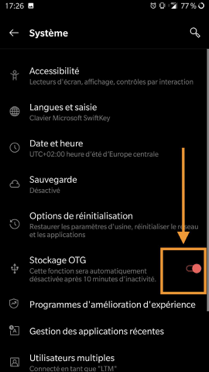 The piano installation driver
For your piano to be recognized by the application, you may need to install an installation driver specific to the piano model on the device. This is increasingly rare because today's pianos have built-in drivers, but it can still happen, especially on older models. This driver will always be available on the website of the manufacturer (Yamaha, Korg, Roland, Casio, Kawai, ...). Get the user manual of your piano model (you can download easily on the Internet) to learn more.
Tip: you can find the installation driver for your piano quite easily on the Internet by typing on Google the brand and model of your piano followed by "driver" or "driver installation". Preferably the drivers offered on the official website of the manufacturer of your piano brand.
Your piano cable
Check that the "MIDI" (or "USB") connection of your piano is well connected to the USB port of your computer and that the equipment is still in working order. Indeed, it happens that some cables are of poor quality (and do not connect well between your piano and your computer) or require a specific configuration. To be sure, we advise you to consult the reviews of other buyers of the cable on the Internet, which often detail their experience of use after the purchase.