Want to join the La Touche Musicale affiliate program to generate additional revenue from your content? Follow the steps below:
Step 1 - Go to the program registration page on our partner's website (FirstPromoter): https://latouchemusicale.firstpromoter.com/
Step 2 - Create your account by entering your email, first name and password: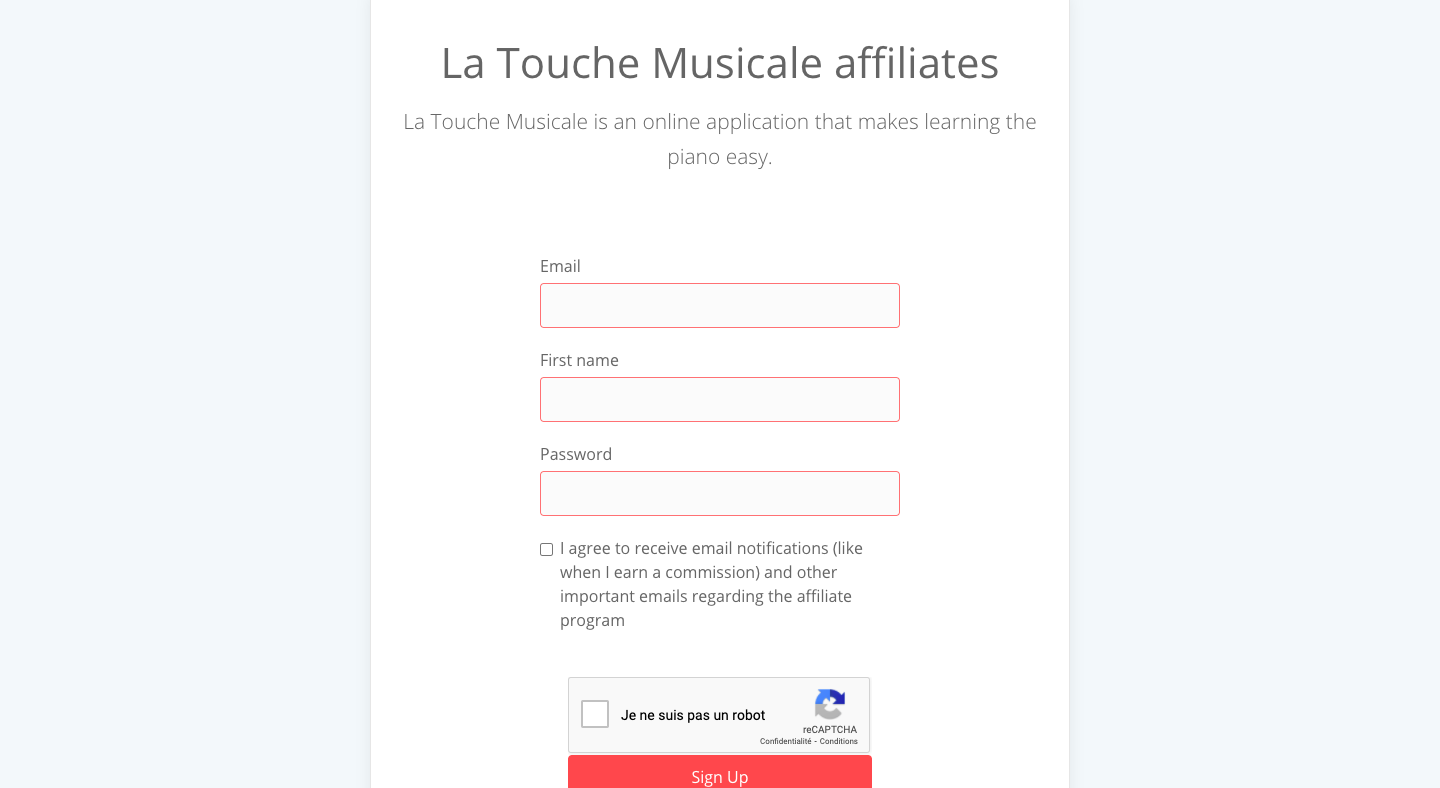 Step 3 - Once you have created your account, you will access your affiliate dashboard. This is where you will be able to retrieve your unique tracking URL that will redirect your community to our site and allow you to track your sales and commissions. When you are on your dashboard, scroll down the page a bit to see your unique tracking URL. Copy this URL.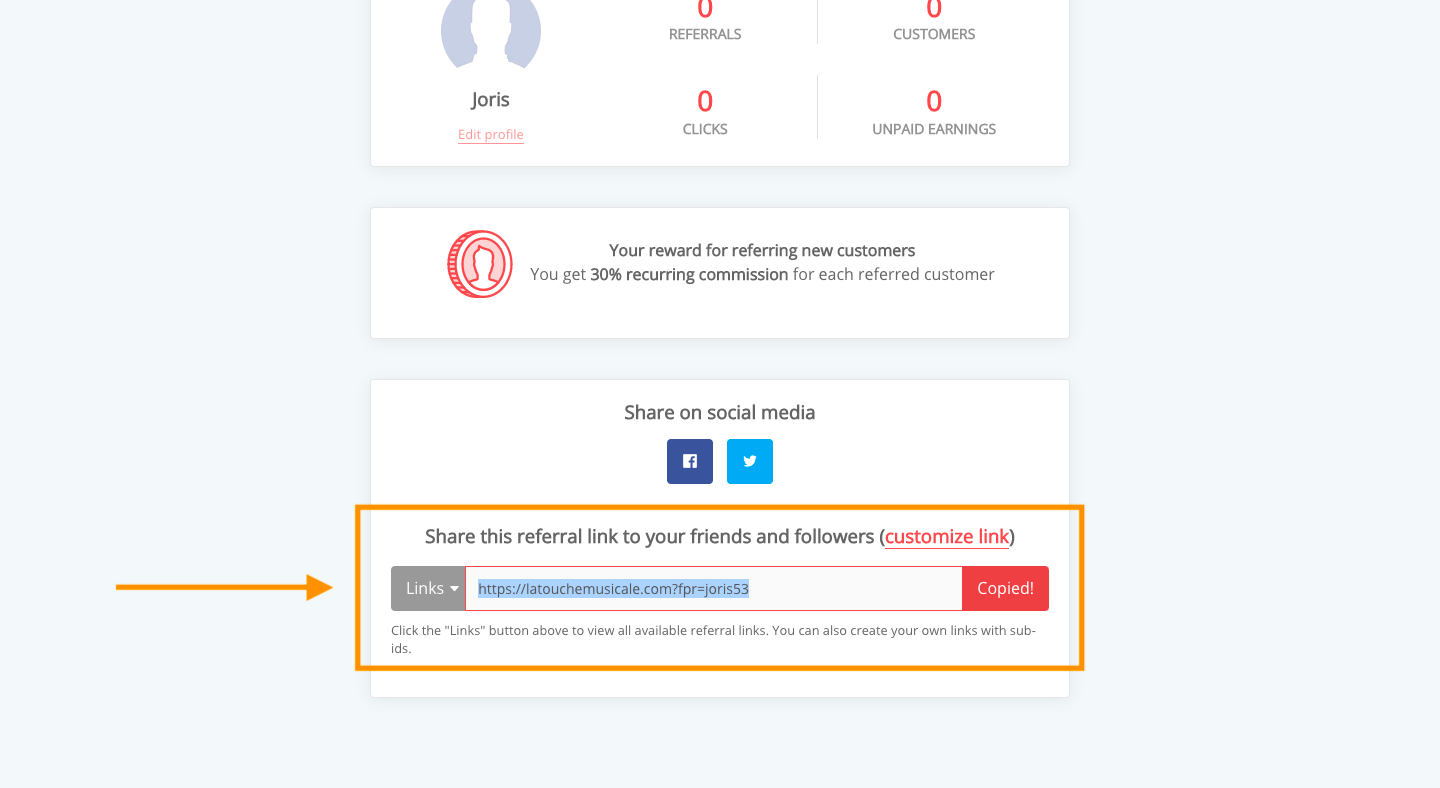 Step 4 - Once you have copied the URL, place it on the medias where you have influence (blogs, social networks, newsletters/mails, ...).
Example 1: If you have a blog, you can write an article about La Touche Musicale. Insert this link in a visible button so that your readers can click on it easily.
Example 2: If you are an influencer on Instagram or Facebook, you can put this link in your bio preceded by an intro sentence like "Learn piano easily with the songs you love", so your followers can know where this link will redirect them. You can also make occasional stories linking to this link or multiple posts with the same goal.
Tip: The more context and emotion you put into your post/story, the more your followers will be touched and therefore you will generate more clicks and sales.
Example 3: If you are a Youtuber who produces piano tutorial videos, place this link in the description of your videos with an introductory sentence like: "Learn piano with the best app".
Example 4: If you have a website, you can also place this link in advertising banners inserted inside articles whose subject is relatively close to the activity of La Touche Musicale (learn piano online and easily).
Tip: Avoid placing these links in a "raw" way, i.e. with the URL fully visible. Instead, insert the affiliation URL in images, buttons (call to action) or contextual texts (e.g.: "Learn the piano easily", "La Touche Musicale piano learning app", ...).
To give more graphic impact to your communications, you can also download our visual resources via our media kit: https://drive.google.com/drive/folders/1mVLEruQAxWYXIzBYcSQf5ybA6L8ASo3u?usp=sharing
Step 5 - Once the URL is published on the spaces of your choice, let it a few hours/days pass. Then log in to your affiliate dashboard via this link: https://latouchemusicale.firstpromoter.com/login
Step 6 - Once logged in, go to the "Details" tab: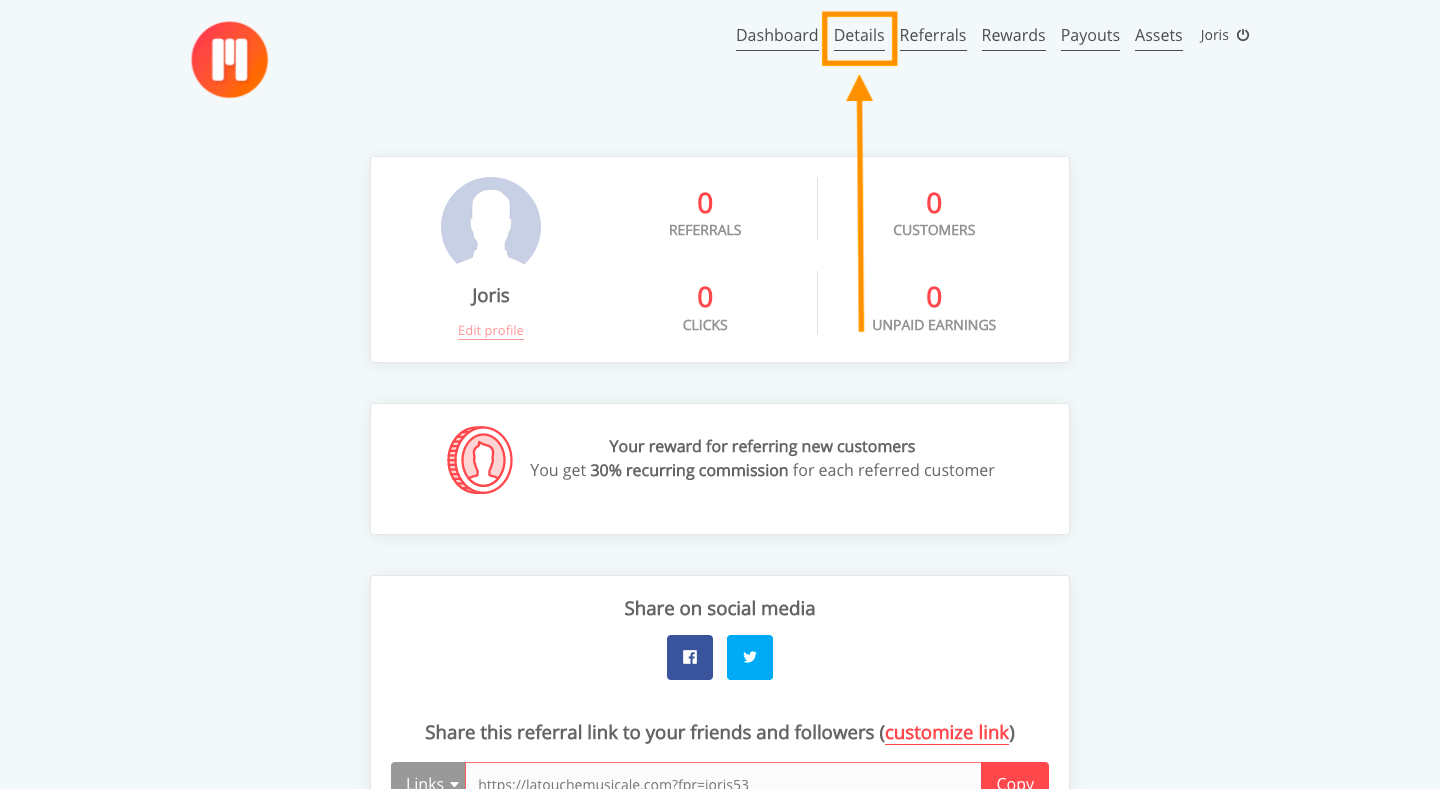 From this tab, you can follow all the commercial performances of your campaign. You will find in particular :
- The day concerned ;
- The number of clicks on your URL;
- The number of (free) registrations to the application that you have generated;
- The number of customers you generated;
- The income (commissions) you have earned each day.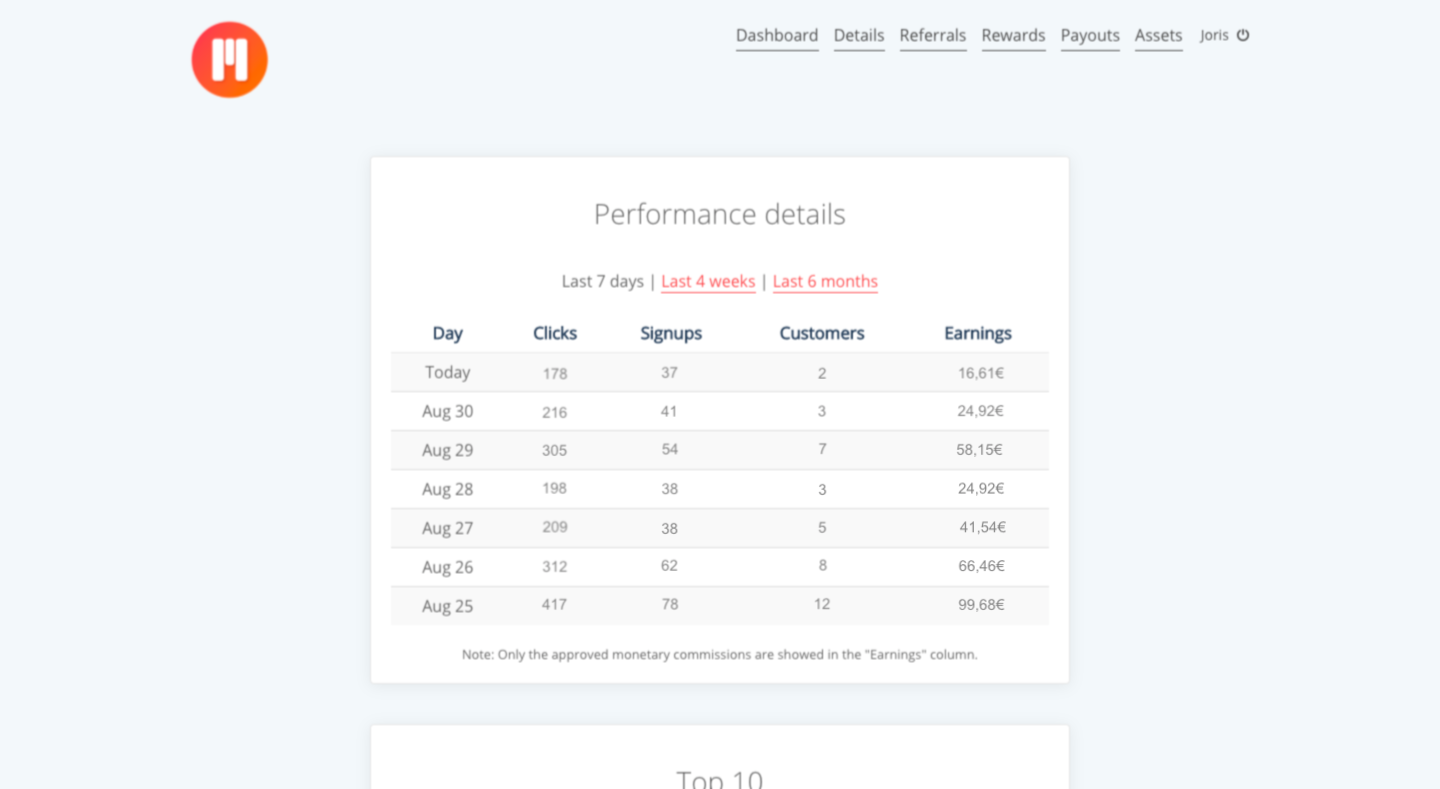 You will be able to request payment of your commissions as soon as you reach 25€ of accumulated commissions (you will reach it quickly if you have a relatively committed community). Once requested, payments are made on the 30th of each month. You can be paid via Paypal or via your IBAN. You can configure the payment methods by which you want to receive your commissions in your dashboard: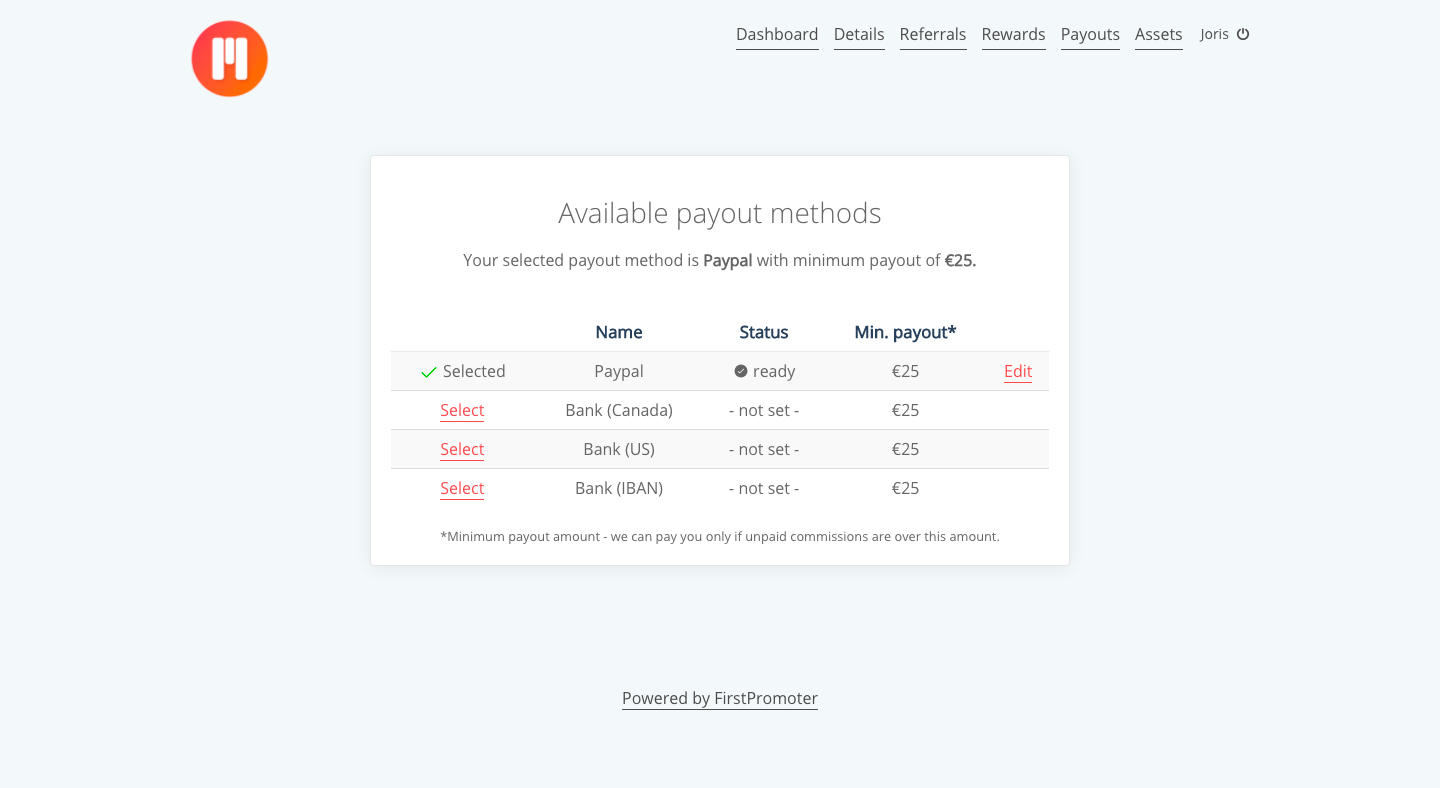 Tip: To generate more sales, we advise you to multiply the channels on which you communicate with your community. If you are on several social networks, we advise you to place the affiliate URL on all these networks. If you have a blog, place it on that too (preferably on several pages).
In addition to varying the communication platforms, we advise you to vary your communication: make several different stories with the link, several posts, several types of blog articles (review of the application, article like "The 10 best piano applications", banner ads on other articles, ...).
By varying your communication media but also the formats, you will be able to observe what works best and then focus on it to generate more sales and commissions.
If you need personalized advice for your campaign, you can contact Joris, our marketing referent: joris@latouchemusicale.com. Together you will find the best way to communicate to get maximum sales performance.