You have joined the La Touche Musicale affiliate program, collected your affiliate link and published your first campaign to your community. Now you want to improve the commercial performance of your campaign? Check out our tips here.
1) Use context and emotion
In any communication, emotion is very important. To generate qualified clicks on your content, you need to convince your community that La Touche Musicale is a solution that will bring them joy and good mood. Try to stage the application: images or videos showing you playing the piano on the app. You can for example take a series of videos spread over several weeks where we see you playing the same song on the application. The idea here is to show your progress to convince your community.
In any case, putting in context the use of the product and incorporating emotion will project your viewer in his own use of the application and his own particular context. This psychological projection plays a very important role in involving your community in your communication. It is what creates its engagement and it is therefore very important to pay special attention to it.
You can also download our visual resources to increase the impact of your communications via our media kit: https://drive.google.com/drive/folders/1mVLEruQAxWYXIzBYcSQf5ybA6L8ASo3u?usp=sharing
2) Vary your communication channels
This advice applies to multi-channel influencers, i.e. influencers who communicate on several platforms at the same time. For example, if you're a Youtuber but also frequently communicate on Twitch and Instagram, it may be worthwhile to promote your La Touche Musicale affiliate link on all of these platforms. This will allow you to expand your audience and maximize your revenue.
3) Vary your communication formats
Trying out different communication formats is what will really help you understand what works best for your community. For example, if you are an Instagram influencer, you can test different types of stories: a story where you simply talk about the app in face cam, another one that shows you trying it live with a piano, ... By multiplying the formats, you will be able to analyze the results of each of them and focus on the most performing ones.
4) Place your affiliate URLs in contextual media
This advice is more relevant for blogs, newsletters or websites.
Avoid inserting your affiliation URLs "as is" in your texts, i.e.: "https://latouchemusicale.com?fpr=joris53&fp_sid=exemp2".
This type of link is not very engaging and may negatively impact your click-through rate. Instead, insert your URLs in media such as images (screenshots, application demonstrations, ...), buttons or contextual texts (e.g.: "learn piano", "La Touche Musicale application", ...). This will allow you to drastically increase your click-through rate because you are integrating context into your redirection. The user knows more or less where he should arrive by clicking on this link.
5) Know the La Touche Musicale learning app
This tip seems quite obvious but many affiliates don't necessarily apply it. However, it is a huge added value in your communication. If you have taken the time to test the application La Touche Musicale, you should know its benefits, its drawbacks, its features, its use, ... From this test came your personal impression. This is what your community expects: that you tell them your feelings and your opinion about the app.
The more you know about the product you are promoting, the more comfortable you will be in your communication. Your community will feel it and will be much more likely to follow you on this marketing campaign. You will therefore generate more sales and commissions.
6) Don't sell, advise
This advice is similar to the previous one in that it implies a prior test and knowledge of the product you are promoting.
Position yourself more as an advisor than as a salesperson. If you advise well, if you take the time to argue about your different opinions, you will convince your audience much more easily than if you were to advertise aggressively.
Your community follows you because they find your content interesting and because they trust your judgment. We therefore advise you to advise them in a precise and complete way.
7) Focus on original and useful content
If your community follows you, it is because they are interested in your content and your approach. It is therefore always interesting to create original and useful content so that your audience can get something relevant from it.
For example, if you write an article about the La Touche Musicale application, you can insert a video dedicated to a specific use case, a way you use the product. This will allow your followers or readers to have in mind a specific context of use of the application. They will then be able to project it in their own daily life in order to understand its value and usefulness.
8) Emphasize the advantages, but don't overlook the disadvantages
No product is perfect.
In order for your community to get a clear picture of the product, you must not only highlight the benefits of the La Touche Musicale app, but also its drawbacks. Of course, if you want to sell the app, you'll have to focus more on its benefits than on what you didn't like. Still, your audience expects you to be honest about it. By presenting them with the whole picture, they will be better able to know the pros and cons and thus choose for themselves.
9) Test and analyze your different communications
This is certainly the most important tip as it will allow you to significantly improve your number of sales.
On your affiliate dashboard, you have the possibility to create several affiliate links, all of which will be linked to your affiliate account.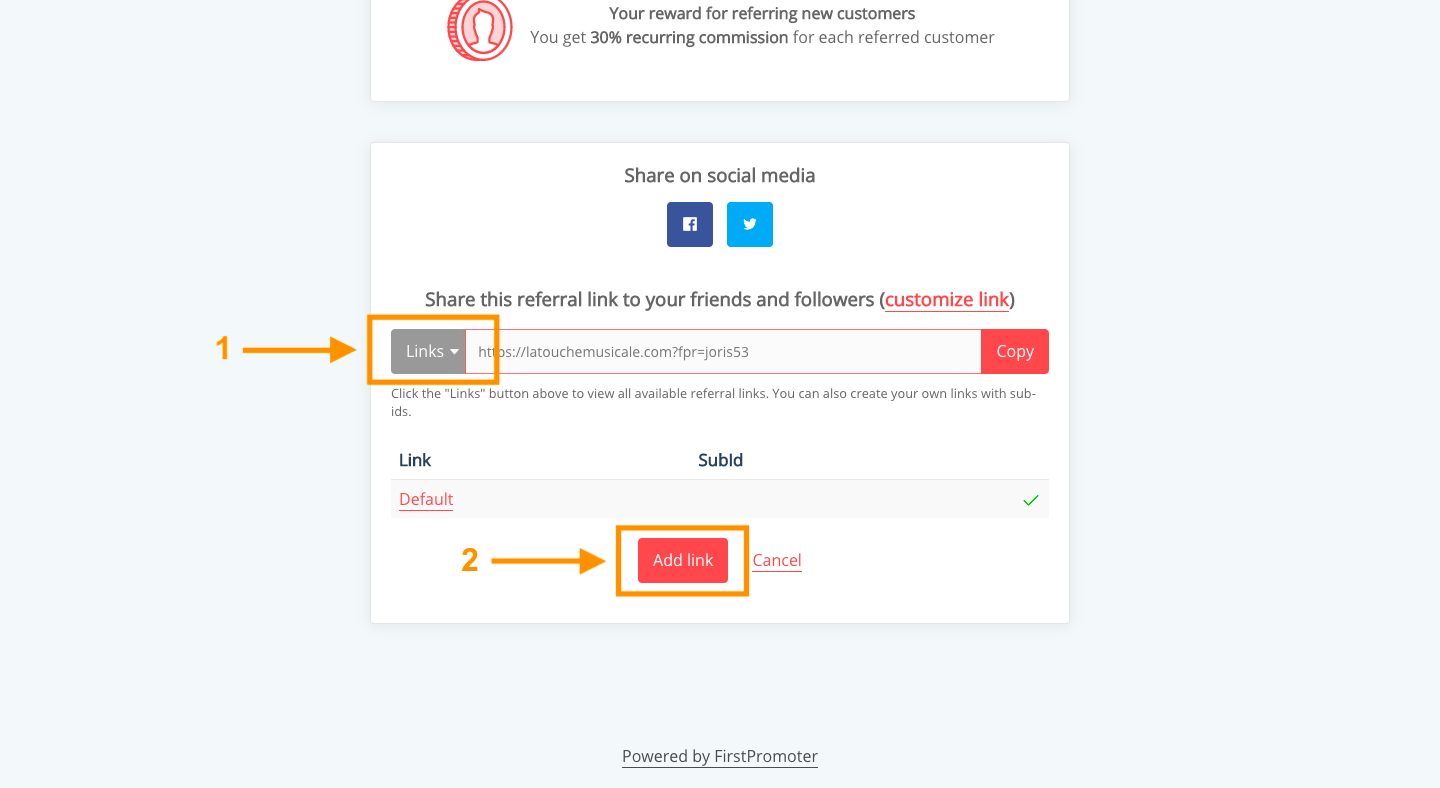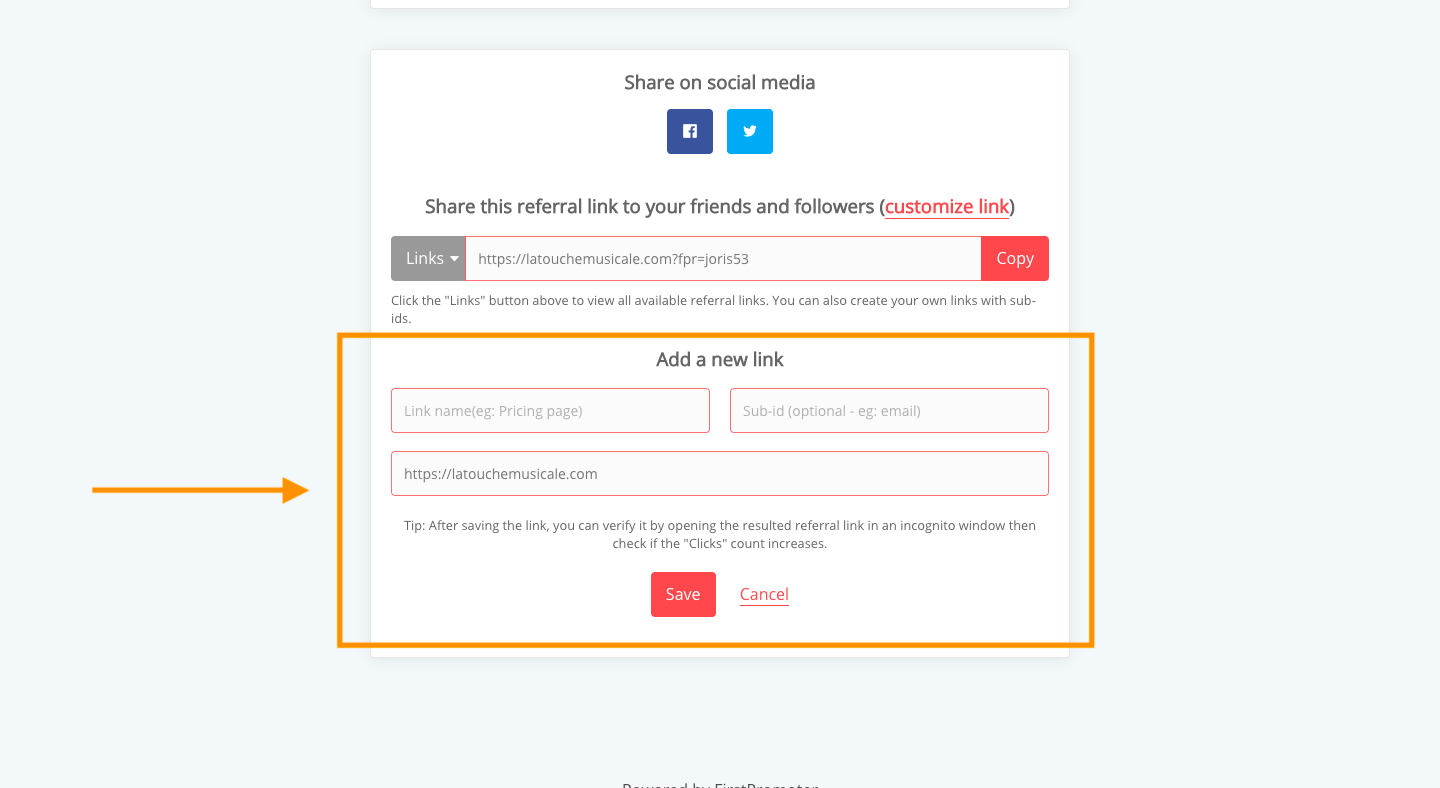 This feature is very interesting for you since it allows you to place different links on different communications and analyze the results for each of them.
Example: you write an article on your blog and want to promote La Touche Musicale to earn commissions. You can start by writing a first article like "Test and review of the application La Touche Musicale" where you explain all the features and your general opinion on the application. In this article, you put a first affiliate link to redirect visitors to our site. You then create a second article like "The 10 best applications to learn the piano". In this article, you will first present the application La Touche Musicale. At the end of your presentation, you put a second affiliate link (different from the first one) to redirect readers to our website. Promote your two articles so that your community can read them and wait a few days. Go back to your affiliate dashboard to observe the results of both links. To do this:
1 - Go to the "Details" tab: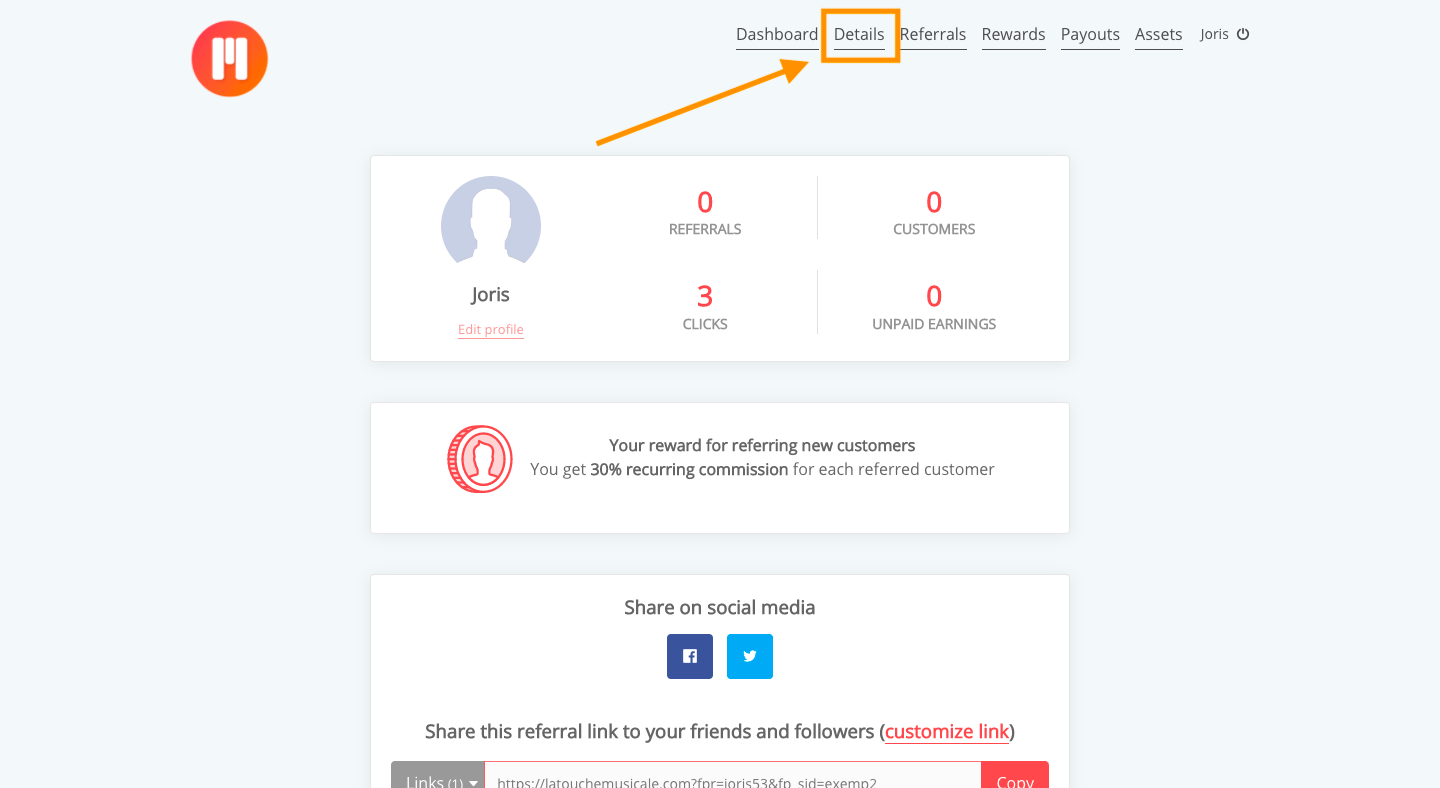 2 - Scroll down slightly on the page. You will see a "Top 10" section. In this section, click on the "Top 10 sub-ids" tab: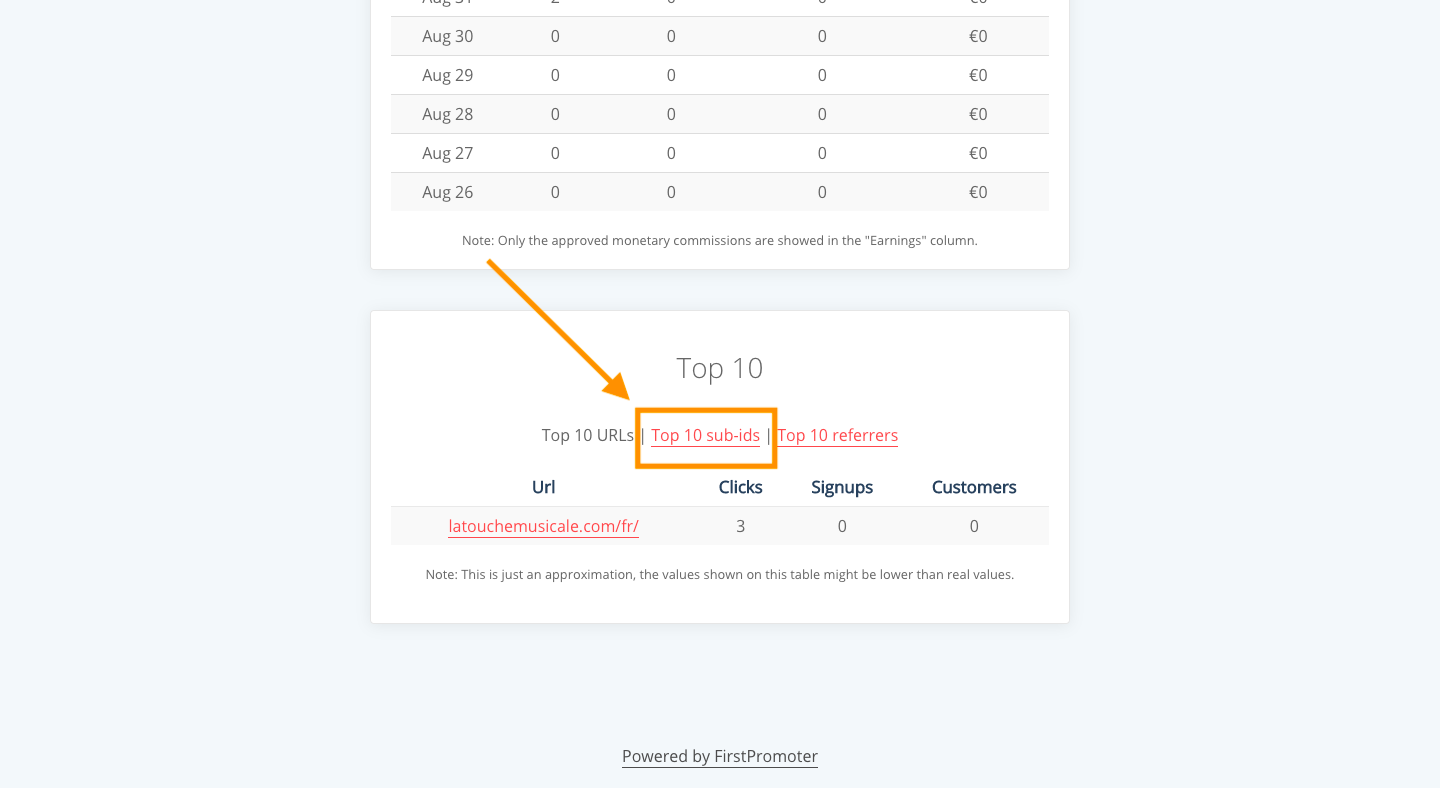 3 - All your links and their tracking data (clicks, registrations, customers) go up here: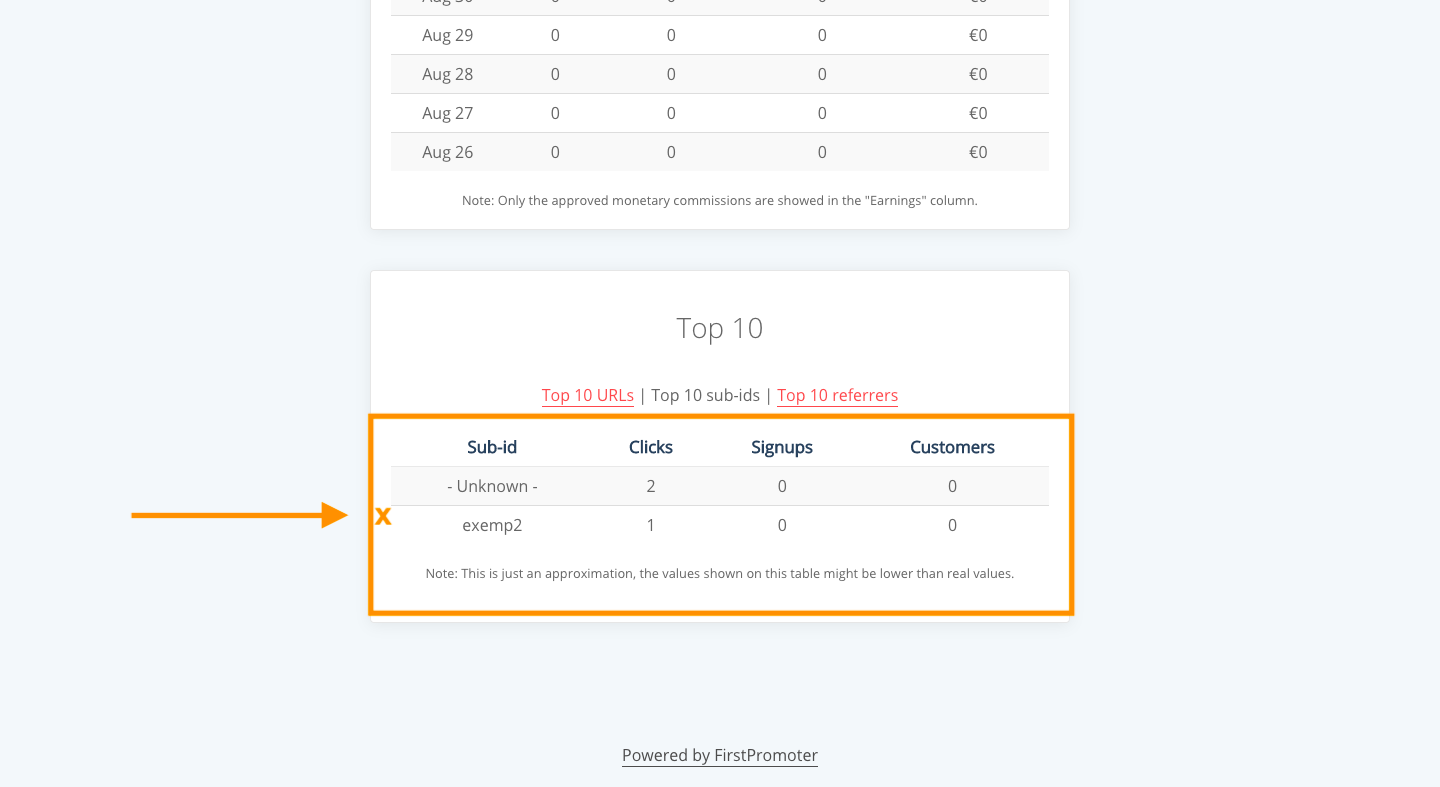 When you start a campaign, you can therefore create a URL for each type or format of communication that you set up (story, post, article, banner ad, emailing, newsletter, ...). Take the time during the first weeks to analyze the best format to use to generate the maximum of conversions and therefore commissions. Once you have found the best format, you can focus on it and maximize the commercial efficiency of your communication.
Of course, if you need help setting up these different URLs or analyzing their performance from your affiliate dashboard, you can contact Joris, our marketing consultant, who will be able to assist you: joris@latouchemusicale.com.