To learn the piano on the La Touche Musicale app, you will need a digital piano connected via USB to your computer.
To guide you, we present here our favorite models of the year, of course all compatible with the app. Enjoy!
ACORN MASTERKEY 61
General review
💖
The Acorn Masterkey 61 is the very definition of simplicity and efficiency. This master keyboard, which can only be used when connected to the computer (the keyboard does not have a speaker that allows it to produce sound on its own), is perfect for your first few years of learning.
Once connected by USB to the computer, it is immediately recognized and it is then immediately possible to practice La Touche Musicale.
Its touch is not heavy (but at this price you can't have everything), but remains dynamic and allows you to practice in total fluidity.
This entry-level model will satisfy beginners wishing to practice efficiently and at a lower cost.
Connecting to your computer
The midi cable to connect this piano to your computer is included with this model.
Technical data
Keyboard
61 velocity-sensitive keys
Controls
Molettes Pitch bend & Modulation
1 fader assignable
4 assignable rotary potentiometers
Advanced MIDI Functions
LED Display
Presonus Studio One Artist software and USB cable included
System requirements
Does not require a driver
Apple iOS, Apple OSX, Windows XP, or newer, Linux (MIDI driver required)

Connectors
Connectable to the computer via USB
Connection for foot switch
Dimensions
Dimensions: 965mm x 190 x 76

NEKTAR IMPACT GX61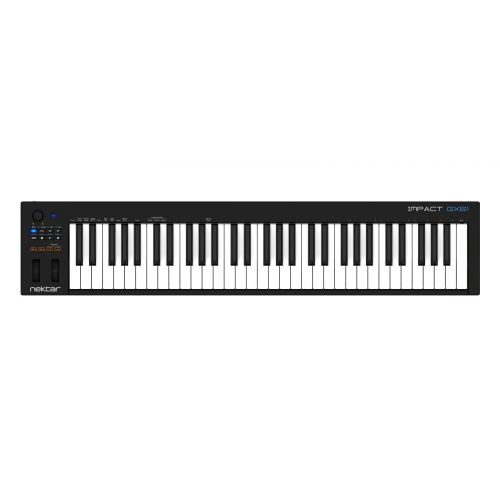 General review
💖💖
The Nektar Impact GX61 is a product that works wonderfully with all media: computer, mac, tablet as well as Android and iPhone.
Truly plug and play, this instrument offers excellent key response and remains lightweight and easy to store. The size of the keys is really similar to that of a real piano.
Easy to use, you will be able to perform live shows without any problem with this product. The present settings can be changed on the fly and offer the possibility to remove the velocity if needed. With its pleasant touch, the quality/price ratio is really present.
Connecting to your computer
The midi cable to connect this piano to your computer is included with this model.
Technical specifications
Keyboard
keyboard 49 or 61 dynamic keys
4 velocity curves
Controls
Octave change button
Transposition button
7 x transport buttons
Assignable Pitch Bend & Modulation Wheels
1 potentiometer (MIDI assignable)
Power on/off
System requirements
Does not require a driver
Apple iOS, Apple OSX, Windows XP, or newer, Linux (MIDI driver required)
Nektar DAW Integration
Mac OS X 10.7 or higher, Windows Vista, 7 & 8 or higher
Weight & Dimensions
Impact GX49 :
Dimensions : 78,74 cm(L) x 17,78 cm(P) x 5,08 cm(H)
Poids : 1,81 kg
CASIO CT-S200 BK BLACK CASIOTONE KEYBOARD ARRANGER 61 KEYS CTS200 CT S200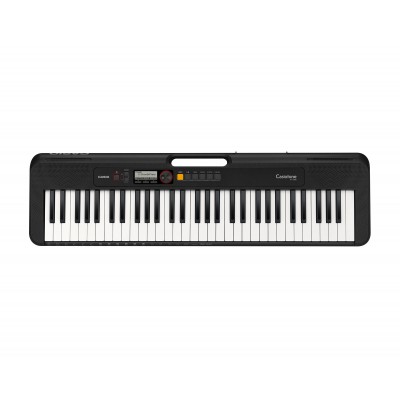 General review
💖💖
Casio introduced the world's first electronic keyboard in 1980, bringing the gift of music and creativity to thousands of people.
Almost 40 years later, the new Casiotone series changes completely, building on the brand's tradition of innovation, versatility and value for money.
The new Casiotone series is designed to be the most portable 61-note keyboard in the world.
New features such as an integrated carrying handle, piano-style keys, longer battery life, smooth angles and a sleek profile make it a perfect introduction to music.
The new LCD screen and jog wheel allow for fewer buttons and a clear, uncluttered panel.
The CT-S200 is the easiest to use keyboard in its class.
Connecting to your computer
The midi cable to connect this piano to your computer is a USB - USB-C cable. You can find it by clicking on this link.
Technical data
- 61 full-size keys
- 400 tones
- 77 accompaniment rhythms
- Dance music mode
- 60 pre-selected pieces
- Headphone connector (mini jack)
- Audio input (3.5 mm jack)
- Sustain pedal connection
- USB connector (micro B)
- Compatible with AC Adapter AD-E95100 (Included)
- Battery charging time: 16 hours from 6 AA batteries.
- Dimensions: 93cm x 25.6cm x 7.3cm
- Weight: 3,3 kg
- Footswitch and USB connection cable to computer not supplied
BIRD XP1 KB PORTABLE DIGITAL PIANO 88 NOTES JUNKEY PIANO DEBUTANT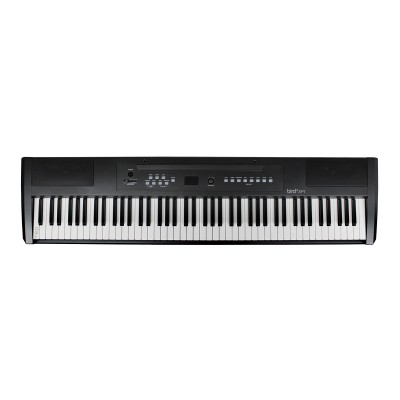 General review
💖💖💖
Easy to use and very complete, the Bird XP1 piano concentrates the essentials for a good start to piano playing. Its compact size and low weight make it suitable for use at home or in rehearsal.
Technical data
- Keyboard: 88 weighted keys with hammer-action shading mechanism and adjustable dynamic keystrokes
- Display: LCD
- Polyphony: 64 voices with effects
- Voices: PIANO, E-PIANO, HARPSICHORD, VIBES, N.GUITAR, ORGAN (electric organ), STRINGS (string instruments), BASS
- Other functions: split, layer, keystroke sensitivity, transposition, metronome
- Effects: Reverb, Chorus
- Demo Pieces: 8
- Recording : Two tracks, 10,000 notes per track
- MIDI Function: Transmission setting, local controller
- Connections: MIDI Out, USB, sustain pedal, Line Out/Line In, headphones, power supply
- Speakers: 2 x 4Ω / 10W
- Input voltage: AC 230V, 50Hz
- Accessories: Sustain pedal, power supply, user manual, lectern
- Dimensions: 1330 x 330 x 120 mm
- Weight: 17.1 kg
CASIO CDP-S100 BK DIGITAL PIANO CDPS100 CDP S100 BLACK P45
General review
💖💖💖💖
The new model of the CDP-S line seduces thanks to its exceptional features: a new hammer mechanism, a new sound source as well as a new loudspeaker system.
What's more, it's very light and also works with batteries, so now you can take your piano everywhere!
Technical data
- Keyboard: 88 keys with stepped hammer mechanism II
- Touch Sensitivity: 3 types, off
- Polyphony : 64 notes
- 10 tones
- Integrated metronome
- Reverb: 1 to 4, off
- Chorus: 1 to 4, off
- Demonstration pieces: 2 pieces
- Transposition: ±2 octaves (-12 to +12 semitones)
- Tuning: A4 = 415.5 to 465.9 Hz (Default setting: 440.0 Hz)
- MIDI: Multitimbral 16 received channels, GM Standard Level 1
- Compatibility with Chordana Play for Piano application
- USB interface
- Speakers: 2 x 8 W
- Batteries: 6 AA-size alkaline batteries
- Battery life: about 13 hours
- Included Accessories: AC Adapter AD-A12150LW and SP-3 Sustain Pedal
- Dimensions: 1322 x 232 x 99 mm
- Weight: 10.5 kg
THOMANN SP-320 DIGITAL PIANO BUNDLE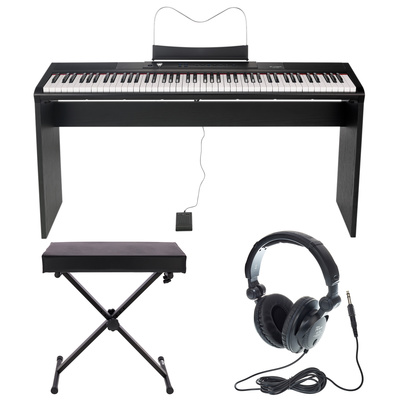 General review
💖💖💖💖
The Thomann SP 320 is an excellent instrument for people who want to discover the piano or for more experienced players who need a digital practice piano.
It is simple to understand and use. Moreover, its simple and uncluttered design remains of good quality. However, it remains somewhat limited in the different functionalities it offers.
In short, it is a very good model of digital piano Thomann whatever your level in music, and at a very correct price for an instrument of this quality.
Technical data
- Compact digital piano
- 88 semi-weighted, velocity-sensitive keys
- 12 sounds
- 12 demo pieces
- Polyphony 32 voices
- Couche Mode
- Reverb and chorus
- Metronome and tempo
- Connection: headphones, USB/MIDI port, USB audio port, stereo outputs (L/R)
- Supplied with power supply, sustain pedal and music stand.
- Can run on batteries
- Integrated amplifier system: 2 x 20 Watt
- Dimensions (W x D x H): 1275 x 275 x 85 mm
- Height with lectern: 1000 mm
- Weight: 9 kg
- Color: black
- Delivered with the piano bench (seat: 520 x 290 mm / velvet upholstery / height adjustable from 480 to 560 mm / color: matte black)
- Delivered with the piano stand (dimensions: 1270 x 260 x 655 mm / weight: 8kg / color: black)
- Delivered with headphones (hi-fi headphones / swivel earphones / 57 mm transducers / bandwidth: 20 - 20k Hz / sensitivity: 110 dB / impedance: 32 Ohm / power handling: 100 mW / 3 m cable with 3.5 mm stereo mini jack plug and 6.3 mm adapter)
YAMAHA P45 PORTABLE DIGITAL PIANO 88 KEYS BEGINNER CONSERVATORY P-45
General review
💖💖💖💖
Its elegant design and quality make the Yamaha P-45 the benchmark for portable digital pianos. Its 88-note Graded Hammer-action keyboard with matte black keys provides the natural feel of a traditional piano.
The performance of its amplification offers optimal playing comfort in rehearsal as well as at home. Professional quality, the P-45 is also dedicated to the stage with its 64 notes of polyphony. Its sound catalog integrates a total of 10 instruments including grand pianos, electric pianos, organs, harpsichord, vibraphone and symphonic strings. All these sounds benefit from the integrated digital effects such as Reverb or Chorus.
Dual mode allows you to superimpose two sounds to enrich your interpretation and allows, for example, to play the piano and strings simultaneously. Convenient for the student and his teacher, the Duo mode separates the keyboard into 2 identical parts to facilitate reproduction and repetition. The transposition but also the refinement of the chord allows you to adapt your playing to all repertoires. The USB port allows the connection to a computer in order to benefit from numerous applications. The P45 is delivered with its sustain pedal and you will be able to get its optional Yamaha L85 stand combining comfort and aesthetics.
With all its features, the Yamaha P45 is a compact, high-performance piano at an affordable price that will follow you anywhere.
Technical data
- Keyboard: GHS (Graded Hammer Standard)
- Keys: 88 weighted keys with matte black keys
- Number of tones : 10
- Polyphony (max) : 64
- Piano Sound: AWM Stereo Sampling
- Reverb: Yes (4 types)
- Chorus/Effect: Yes (Preset only)
- Number of integrated pieces: 10 (Demonstrations), 10 (Piano)
- Duo Mode: Yes
- Overlay Mode: Yes
- Metronome : Yes
- Tempo : Yes
- Transpose: Yes
- Tuning : Yes
- Headphone output on 6.3mm jack
- USB to Host : Yes
- Power: 2 x 6W
- Speakers: 12cm x 2
- Sustain pedal, music stand and power supply included
- Dimensions: 133 x 154 x 295 mm
- Weight : 11,5 kgs